hellphisto application
Name :kyle robert anthony klippert
Age :18
Where do you live/Timezone: Hamburg Iowa(IA), Central time zone (GMT -6)
How active will you be: I am on any time that i can be and the only time that am not likely to be on is Monday from 9:00 a.m. - 3:30 p.m. and Tuesday through Friday from 8:00 a.m. - 3:30 p.m. and other then that i will be online.
E-Mail:kyle_klippert@hotmail.com
Hobbies : gaming and basketball
How you'd handle a hacker : find out where he is at and then go to his map and hide and wait till he hacks and u have proof and if you truly believe that he is not a hacker after watching for at least 30 minute s then he may be safe unless u hear his/her name come up again.
If two people were fighting, what would you do? :find out what they are fighting about and then comely tell them that they need to stop because it will mostly likely filling up the chat box making it harder for other players to read chats that they are having
How many servers have you been a GM/Admin in?:None, hope this can be my first

Why should we choose you: because I know how to handle stressful situations and am very good about holding in my personal opinions and keeping my cool even if i believe someone is wrong I know my rules when it comes down to play soul ms and i am always willing to take as much time as it takes to help out people. I am familiar with your server i used to be a donator back in light ms and was playing it a lot.
Reason i applied: To be able to help people to be able to post a good video on youtube further explaining about the server, still planing on getting super donator so that i can show it off and the things that you can do with it, plus there are not as many events as i think a lot of people would enjoy to have and i am always willing to have a event. I want to be a person that someone comes to and trust me when they need help with something, players right now do not see as trustworthy as a GM because to them i am just another player that knows a few thing, witch is not completely true i know more then most gamers do cause i spend so much time on a computer.
Summary of yourself : I am 18 years old I live in hamburg Iowa my zip code is 51640. I am a always happy kind of person,I tend to let things just flow and try not to let any of the small things bother me. I am mostly on playing on the computer and from time to time you will see me playing CODMW 2.
Extra Info:I have a facebook account that you can contact me on a phone if needed, and a msn account
How long does it take for the earth to go around the sun?: 365 days 6 hours
In game name:hellphisto
this is what you do with a hacker
[img]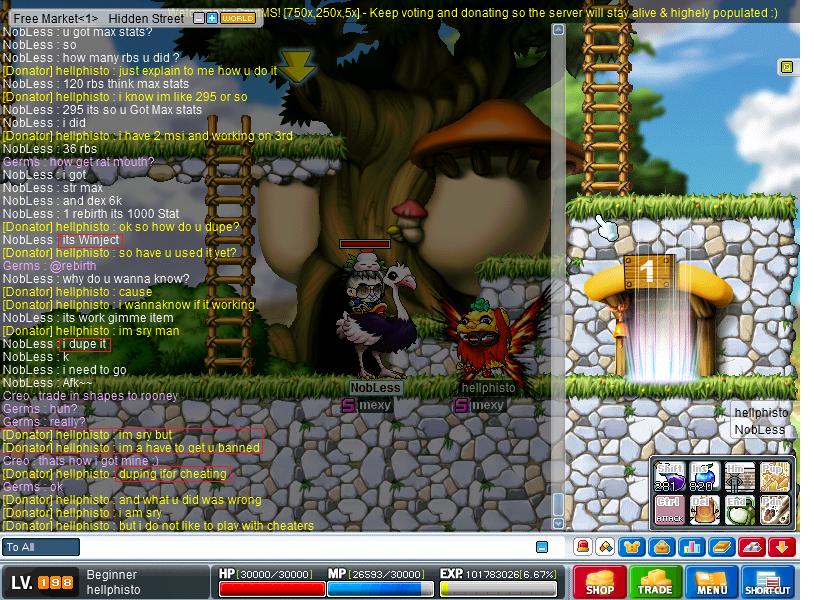 [/img]
you catch them in the act and if GM ban
if regular player report