What are you applying for:
GM
Name :
Kelvin/Boby [I prefer Kelvin]
Age :
15
Where do you live/Timezone:
Australia standard time: Sydney time = GMT+10
daylight saving: Sydney time = GMT+11
How active will you be:
As active as possible
E-Mail:
GhOStBOOMZ@hotmail.com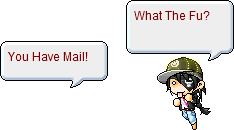 Hobbies
: Being a retarted noob.
How you'd handle a hacker
: When I see a hacker I ask how many rebirths of course dressed like a noob.
If he lie's i ban him if he tells the truth i ask how much damage he does once he hits i screenshot and ban him. i will upload it on forumns so all can see it is not a fake ban.
If two people were fighting, what would you do?
: If it is not serious i will leave them be. Once it gets to serious i jail both of them and let them think what have they done under my watch.
How many servers have you been a GM/Admin in?
: To be honest with you i have'nt been a gm in a server yet thats why i want this job real badly
Why should we choose you: Reason i applied:
I want to help as much people as i can.
Summary of yourself :
I like pocky and playing SoulMS i am 15 years old.
Extra Info:
I love you all!
How long does it take for the earth to go around the sun?:
1 Year
In game name:
GhOStReCoN/GhOStBaNg
1.Do you know the players/staff well enough to be chosen?(This doesn't mean have you met the GMs/spoken to them once. Do you actually KNOW them. Please stop writing "Yes" when none of us know you. Thank you):
Yes some
2.Have you been on Soul MS long enough to deserve a GM position:
Yes
3.Do you help players any chance you get:
Yes
4.Are you of the age that is required to apply(if no you might as well delete this app now):
Yes
5.Please specify exactly(or around) how long you have been playing Soul MS:
3 Months